News
CEO of NeoDynamics of Sweden visits NKY
2017-09-26 PViews:988
Invited by the NKY medical group, the chief executive of Swedish NeoDynamics , Anna Eriksrud visit Beijing on 18~21th September. NeoDynamics is a medical technology company headquartered in Sweden, which is committed to research and develop tumor diagnosis equipment. NeoDynamics has now developed NeoNavia breast biopsy system, and in June 2016 acquired the European Union CE certification. From July 2016, NKY become the biggest shareholder in the NeoDynamics.
This is the first time two sides communication in China after NKY become NeoDynamics shareholder, accompanied by Ms. Eriksrud to China, and on behalf of the NKY is professor?xiao-jun Xu, Xu teaches physiology and pharmacology in Karolinska institute
Ms. Eriksrud first introduced the clinical results in Europe of NeoNavia in nearly a year to NKY: Till to September 2017, NeoNavia system has eight hospitals in clinical trials in Europe, biopsy sampling for breast cancer patients, accumulative total of around 100 cases, the success rate of about 95%. In addition, a small number of axillary lymph node biopsy is performed, with a success rate of up to 100%. The European doctors involved in clinical trials have given the NeoNavia system a high rating.
Just in three days, Ms. Eriksrud respectively visited Beijing mammary gland disease prevention and control of society, the Chinese people's liberation army 307 hospital and scientific Chinese medicine tumor hospital. And has carried on the exchange communication respectively with Huang Yan team of 307 hospital surgical oncology and director wang team of mammary gland tumor hospital.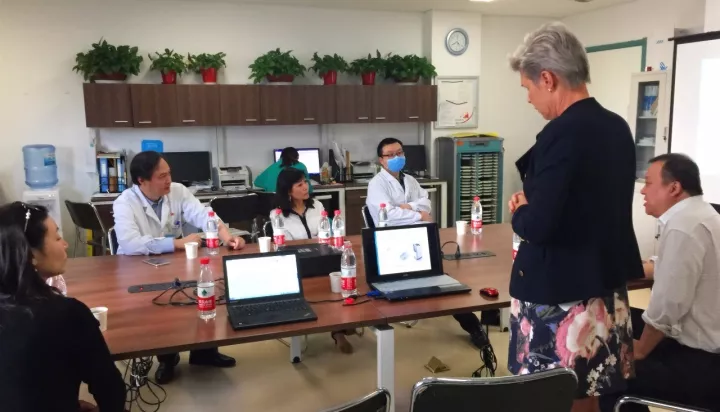 Two experts understand the working principle of NeoNavia system in detail, compare the difference with the existing biopsy device and published their opinion, the two experts have expressed interest in cooperation for clinical testing in China.
At the end of the trip, Ms. Eriksrud has strong confidence in the development prospects of NeoNavia in Chinese market. She believes that the rapid development of China's economy and the importance of early diagnosis and treatment of cancer will have a very positive impact on the market of medical products. NKY has excellent brand influence and market appeal in China, which can help to achieve the NeoDynamics market goal in China, and make a number of high technology of NeoDynamics benefit cancer patients.